Call 803-796-0770 or Email us for more information or to Register.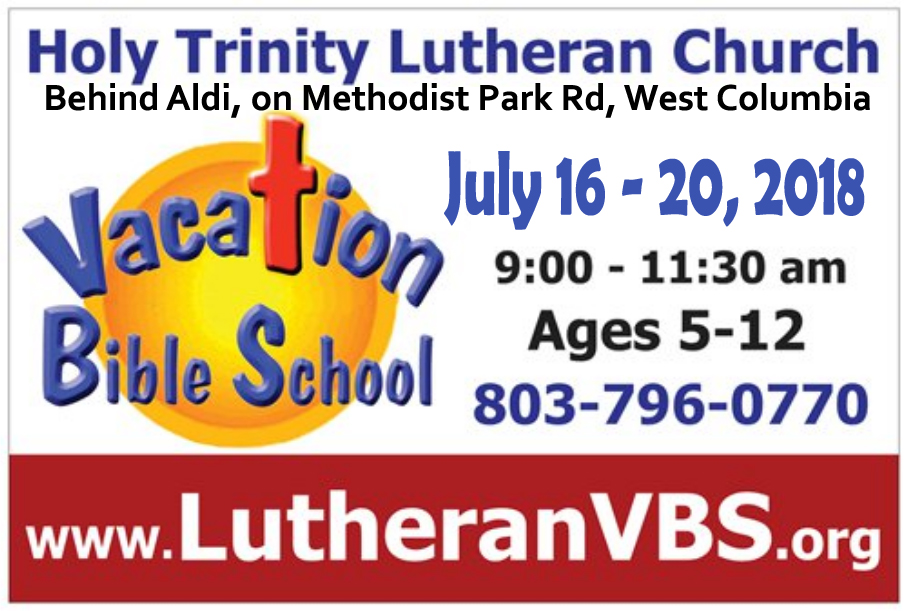 Holy Trinity is committed to proving that a summer Bible School session can be fun for children while still emphasizing important spiritual truths taught in the Holy Bible. 
Call 803-796-0770 or Email us for more information or to Register.
Our goal is to ensure that every child realizes that
God loves them and has overlooked (forgiven) their sins for Jesus' sake.

God provides for their earthly needs, and more importantly, has promised them eternal life because of Jesus.

There are many people who do not yet know of God's love for sinful people, and they have the opportunity to spread this message.

God's Word (the Bible) has all that they need to comfort themselves and their friends during difficult and discouraging times.
Our program is planned months in advance.  Our devoted teachers contribute much of their free time in July planning for and teaching the lessons to your children.
---
Christian Education has always been a priority at Holy Trinity.  We believe so strongly in the importance of Christian Education that, since 1979, our parents and congregation have worked, prayed and sacrificed to establish and maintain a Day Care and Elementary School for the use of our members and their children. 
We are excited that we are able to share God's Word with other children of our community during our summer VBS sessions.
WE BELIEVE that Christian Education is a proper response to God's concern for the Christian education of children.   God leaves no doubt about His expectations in Christian education.  Both in commands and in promises He expresses His earnest concern for the Christian upbringing of children.

God's Command:
       "Bring up your children in the training and instruction
        of  the Lord" (Eph 6:4).
How we are to do this? 
        "Teach them (God's words) diligently to  your 
        children" (Deut 4:7). 
Why are we to do this? 
"That they may place their hope in God"  (Psalm 78:7).

Our teachers and volunteers are committed to providing a quality education for all our children. We integrate our Christian beliefs into all aspects of their education.

Call 803-796-0770 or Email us for more information or to Register.