ISLAM AND CHRISTIANITY COMPARED
What each does with Jesus and God's Love
Please join us for a free seminar comparing Islam and Christianity, and see what each teaches about Jesus and God's Love.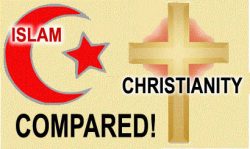 The Seminar will be held on Sunday, February 24th as part of Holy Trinity's Mission Festival.  Initial session will be during the Adult Bible Class at 10:00 am, followed by our Mission Festival Worship Service.  Following the Worship Service will be a congregational meal, followed by the second session of "Islam and Christianity Compared".  Child care will be available during both sessions.
Guest speaker Pastor David Koenig has served overseas as a missionary for the Church of the Lutheran Confession (CLC) for over 20 years in both Africa and India where there has been a long history of contention between Christianity and Islam.
The seminar is being hosted by Holy Trinity Lutheran Church. We welcome you to join us.  DVD copies of the presentation are available for free. If you have any questions, please call Pastor David Pfeiffer at 803-796-0770.